iWAREHOUSE Wins 2018 MHEFI Exceptional Contribution Award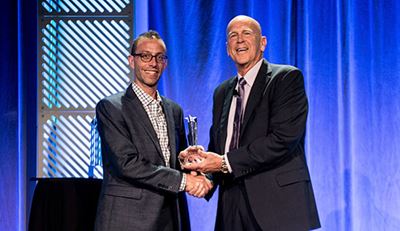 iWAREHOUSE, Raymond's lift truck fleet management and warehouse optimization system, was selected as the winner for the 2018 MHEFI Exceptional Contribution Award. iWAREHOUSE was recognized at the MHI Annual Conference Awards dinner on Tuesday, October 16.
The Material Handling Education Foundation Inc. (MHEFI) Exceptional Contribution Award is given to individuals, corporations, organizations or products that have contributed to the industry in an extraordinary way. iWAREHOUSE was chosen as this year's award winner for the integral role it serves in helping facilities work toward maximum efficiency and productivity. Insights provided by iWAREHOUSE have led to more operator accountability and improved risk management for a more secure and productive warehouse environment.
"iWAREHOUSE was created out of the need for businesses to have data-driven insights to help streamline processes and make operations more effective and productive," said Jim O'Brien, vice president of telematics and leasing, Raymond. "The scalability and customization provide our customers with a complete telematics solutions that can meet their unique warehouse needs — now, and in the future."
iWAREHOUSE is the first in the industry to feature a 7-inch multifunction color display with touch-screen functionality and an intuitive interface that communicates directly with a truck's computer to provide standard vehicle information. It also integrates with optional vehicle systems, allowing for a single, shared display. The single display eliminates the need for multiple screens in the compartment enhancing the operator's overall experience.
About The Raymond Corporation
For more than 95 years, The Raymond Corporation has built a reputation on innovation, quality and service. Raymond® manual and electric forklifts meet a variety of material handling needs and offer advanced end-to-end warehouse solutions that enable operations to run better and manage smarter. This philosophy helps ensure Raymond and its customers are always evolving, always running, always moving ahead — and always on. The portfolio of advanced offerings includes the iWAREHOUSE® fleet management and warehouse optimization system; automated lift truck solutions for the warehouse of the future; and the Raymond Virtual Reality Simulator, a supplemental instructional tool that helps customers improve their operations and meet industry labor demands. Raymond also provides industry-leading customer support through a network of skilled technicians and its authorized Sales and Service Centers. Raymond's work in energy savings, space utilization, ergonomics, manufacturing quality and fleet optimization — combined with best-in-class products and services — work together to increase efficiency and lower costs throughout material handling operations.
####
iWAREHOUSE® and Raymond® are U.S. trademarks of The Raymond Corporation.
©2018 The Raymond Corporation. All rights reserved.