iWAREHOUSE | Cost-to-Serve
From Big Data to Actionable Analytics

Detailed cost-to-serve visibility at the transaction level by employee, process, customer, and other factors is critical to understand your true cost to operate. Activity-based costing gives you the ability to track the cost to perform specific activities, so you can see where you are winning and where are you losing. iWAREHOUSE Cost-to-Serve approach takes big data and translates that into quick, actionable analytics to help drive business decisions.
Some Examples:
+ What customers or unique work tasks make or lose money

+ Evaluate value and savings driven by continuous improvement projects (Slotting, Equipment, Process refinement)

+ Understand every single process in your operation and its cost so that you can better price your services to optimize profitability

+ Calculate the costs of indirect labor and unaccounted time (Missing Time)

+ See the cost impact of new hires, overtime and temporary employees

+ Accurate and timely feedback for better and faster decision making

+ Eliminate the pain and cost burden of trying to do in-house activity-based cost accounting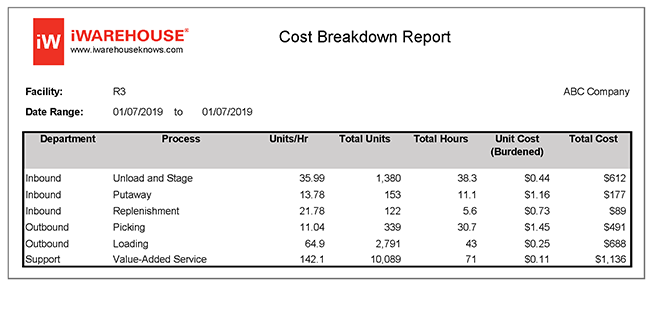 Please fix the following errors and resubmit.