Raymond Receives 2018 SDCE 100 Award for iWAREHOUSE Implementation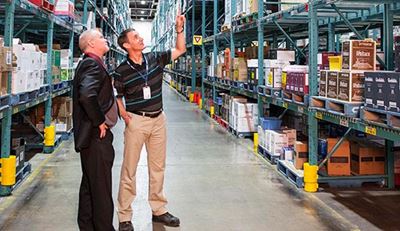 Raymond's iWAREHOUSE is a proud recipient of a 2018 SDCE 100 Top Supply Chain Award for its implementation of iWAREHOUSE® at Nova Scotia Liquor Corporation's distribution center.
GREENE, N.Y., June 28, 2018 — The Raymond Corporation is a proud recipient of a 2018 SDCE 100 Top Supply Chain Award for its work with Nova Scotia Liquor Corporation.
The SDCE 100 is an annual list from Supply & Demand Chain Executive (SDCE) that spotlights successful and innovative projects that deliver bottom-line value to small, medium and large enterprises across the range of supply chain functions.
This year, SDCE recognized Raymond for its implementation of iWAREHOUSE® at NSLC's distribution center. NSLC is especially proactive in protecting its biggest asset — its people. NSLC encourages all employees to take personal responsibility for themselves and the equipment they use to do their jobs. The telematics solution helped NSLC give mangers better insight into the operators' daily activities along with more information that would allow them to make general warehouse decisions and improvements.
"Raymond delivers a world-class product that we're now using to tap into the available data, helping gain better insights to support our people and our entire operation," said Brad Doell, vice president of supply chain and procurement, NSLC.
After iWAREHOUSE was implemented, managers noticed an immediate change in employee behavior. Operators liked knowing the equipment was up to date on maintenance and would perform well. In addition, managers were better equipped to provide a comfortable operating environment for their employees and machines with a clear picture of exactly what was happening in the warehouse.
"Our work with the NSLC further proves our continued commitment to innovation, quality and service," says Michael Field, CEO, Raymond. "We are honored to be included on the SDCE 100 Top Supply Chain projects list and we hope that iWAREHOUSE will continue to help customers like NSLC improve their operations to work more effectively and efficiently."
About The Raymond Corporation
For more than 95 years, The Raymond Corporation has built a reputation on innovation, quality and service. Raymond® manual and electric forklifts meet a variety of material handling needs and offer advanced end-to-end warehouse solutions that enable operations to run better and manage smarter. This philosophy helps ensure Raymond and its customers are always evolving, always running, always moving ahead — and always on. The portfolio of advanced offerings includes the iWAREHOUSE® fleet management and warehouse optimization system; automated lift truck solutions for the warehouse of the future; and the Raymond Virtual Reality Simulator, a supplemental instructional tool that helps customers improve their operations and meet industry labor demands. Raymond also provides industry-leading customer support through a network of skilled technicians and its authorized Sales and Service Centers. Raymond's work in energy savings, space utilization, ergonomics, manufacturing quality and fleet optimization — combined with best-in-class products and services — work together to increase efficiency and lower costs throughout material handling operations.
####
iWAREHOUSE® and Raymond® are U.S. trademarks of The Raymond Corporation.
©2018 The Raymond Corporation. All rights reserved.